Being a blogger is a fun and expressive occupation, but you need your smartphone to be able to handle a variety of complex tasks with ease and efficiency. Here are 5 of the best iPhone accessories especially for bloggers.
At Your Fingertips
When you're travelling around and get some great inspiration for your next blog, it can be frustrating trying to tap it out onto the tiny iPhone keypad. Luckily, the clever brains behind Freedom have created the i-Connex Keyboard to solve all your typing needs. Lightweight and convenient, the keyboard literally folds up for ultimate portability. The Bluetooth capability means that you can type without worrying about plugging in any cables, so you can start writing whenever inspiration strikes.
Innovative Charging
One of the simplest yet most innovative chargers on the market is the solar iPhone charger. Ranging from quirky neon key ring versions to sleek and sophisticated stand-alone sets, there's a solar charger for every taste and purpose. This is a great eco-friendly way to make sure that you can always charge your iPhone on the go.
Case Study
Protecting your iPhone should be one of the very first investments you make. With a screen protector, the everyday wear and tear on your screen will be eliminated, while a quality case will protect your phone from small drops and knocks. There are a range of cases and covers on the market, from fully waterproof to more stylish and fashionable designs. An interesting way to promote your blog is to invest in personalised iPhone 5 cases, where your design is printed directly onto a quality case for everyone to see.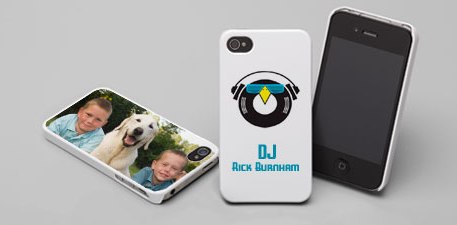 Turn it Up
Often writing a blog needs a significant amount of inspiration and motivation. It can be hard to write quality work when surrounded by either complete silence or the chatter of housemates or family members. Having portable speakers for your iPhone lets you listen to the very best of your music no matter where you are, and the quality is simply astounding. In addition, many speakers act as a docking station which will charge your phone and act as an alarm if needed.
Picture Perfect
Many bloggers need the capability to quickly snap quality pictures that can accompany their online writing. The new iPhones are being released with even better cameras that can take seriously clear pictures, so why not optimize this function with a range of great accessories. First up is the iFlash, an external flash which simply attaches to the bottom of the iPhone letting you take pictures in even the darkest areas.
For those who are serious about their photography, the mCAM Lite is definitely a must have accessory. This unique attachment clips around your phone almost like a case, yet transforms your phone into a proper camera with a 37mm lens and strong yet light aluminium construction.
From solar chargers and wireless folding keyboards to professional quality photography, your iPhone can become seamlessly integrated into your life as a reliable blogging tool. Let these great accessories help to simplify your life and enrich your blogging experience.
About the Author : Emma Jane has been a backpacker travelling around in Europe for 12 months. She has recently started blogging. She loves to write as well as taking awesome travel pictures along the journey.