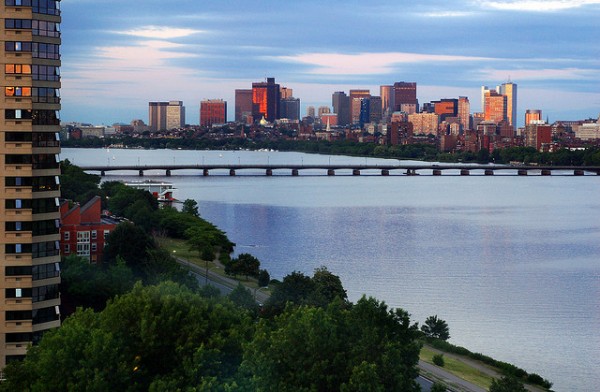 To some visitors, Boston may seem like a staid destination. Today, it's a center of business, culture and education, but you don't have to look hard to find its revolutionary past. That is the Boston that is most worth discovering: the Boston that was the scene of a subversive tea party and home to many fomenters of the American Revolution. Freedom and its attendant ideals seem to crackle in Boston's air. It infuses the entire city with an energy that's undeniable. It's an infectious feeling that even people who are there for a short stay can't help but encounter. Boston may be one of America's oldest cities, but it is also one of the most vibrant and timeless.
Boston is a city designed for walking. In fact, traffic tends to be so bad that many locals preserve their sanity by not owning a car. That's good news for visitors who don't have to worry about renting a car in order to enjoy Boston's main attractions. Perhaps the best walking that can be had in the city is along the Freedom Trail. It may be only two and a half miles in distance, but this remarkable trail features no fewer than 16 historic points. Most people choose to start the journey at Boston Common and finish it at Bunker Hill. However, the real beauty of the Freedom Trail is the ability to wander at will, dispensing with some stops and spending extra time at others.
One of the stops that's worthy of exploration is the Faneuil Hall Marketplace. This complex of five buildings is a center of food, entertainment and shopping. The food court in the Quincy Market building is the highlight. Most days, it seems possible to try almost any kind of cuisine here. Everything from fresh shucked oysters to pastries still warm from the oven is up for grabs. The scent of rising bread mixes with the unique spices used in a complete Greek dinner to make the mouths of passersby water. This is an excellent place to pick up all of the necessary components for a picnic in a nearby park. Cross the Rose Kennedy Greenway from Faneuil Hall to find the Christopher Columbus Waterfront Park. It's the perfect place to enjoy a feast of local foods.
Few neighborhoods are as quintessentially Boston as Beacon Hill. In fact, the neighborhood's name is the first thing that springs to many people's minds in connection with the city. The streets are narrow and the facades are brownstone. A walk through Beacon Hill is a time traveling experience of the best variety. There are opportunities to see the home of writer Louisa May Alcott and the historic State House. Famed actor Edwin Booth once called Beacon Hill home and the African Meeting House is also located here. Most of these structures are private homes, but on Charles Street visitors will find plenty of places to dive into for an authentic Boston experience. There is Café Vanille, serving excellent coffee and pastries that are lighter than air. The aroma of the slowly roasting coffee wafts along the length of the street, signaling to pedestrians that it's time to relax and watch the world go by.
Boston may be a huge, bustling city, but it really shines when the visitor seeks out quiet, intimate experiences. Enjoy a picnic with a waterfront view and a stroll through one of the city's oldest neighborhoods to truly appreciate the beauty and character that make Boston such a unique and rewarding destination.
Kevin Caldwell wrote this article for canalstreethotels.com who specializes in helping travelers find affordable hotels near Canal Street in New Orleans.