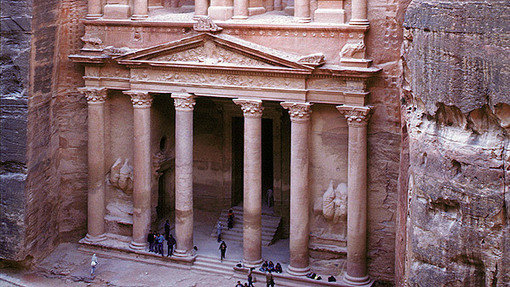 A Tour to the New 7 Wonders of the World
South of Jordan is well known ancient Nabataean City, the fabled capital rose red city, Petra is half as old as time.  This impressive capital around the 6th century BC was ruled by a Nabataean King Aretas IV – Nabataeans are industrious Arab people occupied in southern Jordan for more than 2000 years ago.
The Nabataean civilization was masters in manipulating water technology, due to the fact the area was visited by flash floods. However, the Empire of Aretas IV used this to their advantage by using intricate tunnels, large dams, and water chambers. These incredible innovations of structures stored and secured water during droughts, it helped to create a pseudo-oasis that made the city prosper.
Not only possessed with extreme depository of water, Petra was also a fortress that's engulfed with towering rocks that are almost impenetrable. It also played an important role in trade by controlling the main commercial routes.
An ancient world treasure boasting with incomparable scene and nothing in the world can resemble a rock carved rose red city coated with the charms of mystery. As the most famous and gorgeous site in Jordan, Petra installs an awe-struck and jaw breaking wonder to those locals and travelers.
The entrance facade is most majestic, and when the rock is bathed in the sun's light, its amazing natural colors are highlighted.
Entering this unbelievable city is full of different monuments that as you enter the city, it will gradually unfold its mysteries. The treasury is one of the monuments inside Petra, catch a glimpse of its delicately carved rocks as it glows in dazzling sun.
Romans also managed to build an amphitheatre when the kingdom was absorbed in 106 AD with a 3,000 seat capacity, 800 steps of rock with an overlooking view of the valley. There are also two wonderful museums – Petra's Archaeological Museum, and Petra's Nabataean Museum both of which houses a superb insight into its colorful past.
This massive city has over 800 individual monuments on its basin, and carved by the artistic genius of its inhabitants. A breath-taking display of grandeur and sets of ruins ever labored by both nature and man, indeed is an added collection to the wonders of the world, a beautiful heritage of middle-eastern culture.
Photo Credit : World of New 7 Wonders