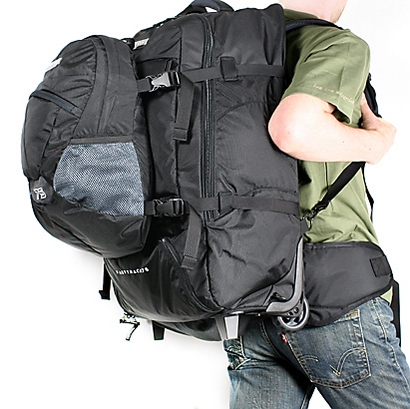 In traveling, backpacks are must have. They can make your holiday vacation or weekend getaway a lot easier. More than anything else, you can bring everything you need to complete your vacation.
So, how can you choose the right travel backpack for you? What are the necessary tips you need to consider? With these questions, this page will provide you some tips on how to pick the right backpack. Read on!
Tips in choosing a travel backpack
1. Light in weight. Backpacks that are light in weight are easy to carry and will allow you to stuff it with many belongings.
2. Adjustable. To avoid hassles and trouble during your travel, choose a backpack that has an adjustable handles and straps. Also, adjustable backpacks are easy to manage and use.
3. Correct Frame Size. Make sure to buy a backpack that has a frame size according to your body frame. This will give you much comfort and convenience.
4. Check the fit.A backpack with a good fit can give you a comfortable travel. So before spending money, try different packs and settle for the one that gives you a convenient and good fit.
5. Check the backpack. To give value to your money, choose a pack that is made of high quality materials. Consider the tips below in checking for quality backpacks:
It should contain wide and sturdy straps
It should have an internal frame to carry the pack closer to your body and to keep your balance a lot easier.
Make sure to choose a waterproof pack so you still can use it even on wet season.
The zippers should have "eyes" so that a security wire or a padlock can be threaded through.
6. Durability.  Straps and zippers can be easily tear up that is why you need to look for travel backpacks with double stitching, strong buckles and quality metal zippers.
7. Backpack accessories. Another tip on how to pick the right backpack is through its accessories. One common accessory you should consider is a day-pack. It is a mini backpack that can be attached to the main pack and is useful for day trips.

Travel tips with the right backpack
This page will also provide you some travel tips and how to pack your things for a trip. Why not keep on reading?
1. Split up your valuables including bank cards, credit cards and cell phones in different pockets, wallets and bags.
Use small bottles in packing toiletries and small items.
2. Make sure to put lighter items at the bottom and heavy ones on top to keep your bag easy to carry. Also, putting your necessities on top is a great idea.
3. Use plastic bags on certain items to avoid leak and dirt inside your pack especially with toiletries. Plastic bags are also useful in keeping dirty clothes.
4. Bring multi-purpose clothes that you can use during the day and as a sleepwear as well. This can cut back your travel items.
5. If you will bring shoes with you, place them inside old sacks and airtight plastic bags to keep your bag clean and odor-free.
5. Roll your clothes instead of folding them to get more space in your backpack.
6. Another travel tips you should consider is to plan your trip and the things you need to bring ahead of time.
With the right backpack and some travel tips related to packing your things, you surely will have the best travel ever. Get the best backpack now!