I have roamed around the world, yet there really is no other place better than home. No matter how long I stay in a foreign country, I would still look forward to the day when my feet would touch Philippine soil.
During some of my foreign jaunts, I actually met some people who told me that they have a dentist in Philippines. They have gone to or are planning to visit our country for medical or dental tourism. It seems that our cheap yet excellent medical services are attracting plenty of foreigners. They come to the country to avail of these services and to also enjoy our tourist spots.
So, when I needed to visit the dentist, I did not hesitate to find one in Makati. If foreigners are making an effort in visiting our country for our dentists, I should also try to be a dental tourist in my own country!
To make the long story short, I found Gerochi Dental & Implant Center. I consider it one of the best decisions I ever had (in terms of finding a medical clinic, anyway).
The clinic wasn't stuffy or scary (admit it, many of us are scared of doctors' clinics!). The girl at the reception had a lovely smile that made me feel I have come to the right place. Surely, a place with friendly staff with perfect smiles is a place where a good dentist works.
The lounge was also quite comfortable, with a plump couch so comfy that I think I managed to sleep a couple of winks while waiting for my turn. LOL. I'm kidding, of course. The wait, after all, wasn't too long because I had scheduled an appointment beforehand.
Also, there was a large, flat-screen TV, so the wait wasn't boring at all.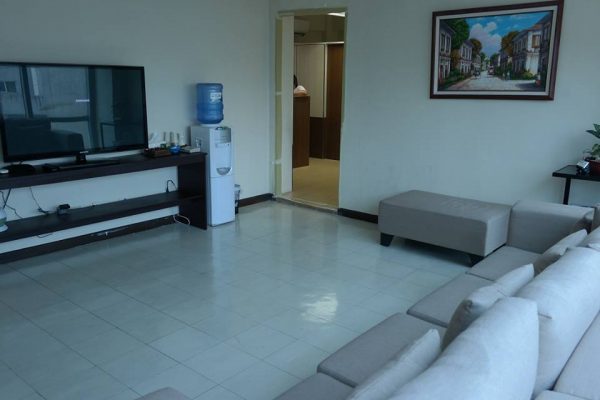 I didn't really imagine that the clinic of affordable dentist in Makati, Philippines could be this high-tech, comfortable, and chic! The treatment room even had a flat-screen cable TV. Though it was much smaller than the one at the lounge, it's nice to be entertained while the doc was cleaning my teeth. It is great to keep my mind away from the fact that someone's digging into my molars.
It was my first visit but the doc did a lot of dental stuff on me. First, there was oral prophylaxis to make my teeth cleaner, removing some plaque that had apparently made my teeth their home. There were also minor cracks on some of the teeth, so these were repaired quickly by the dentist applying some materials, I confess I forgot the name of.
A long time ago, I had a tooth extracted but did not even order any dentures for that. Apparently, it is possible for me to get a "new" tooth using dental implants. I have to come back again should I decide to have that done. I am actually looking into that possibility.
Finding a cheap dentist in Philippines isn't really that hard but finding one that also offers excellent facilities is really a gem. My previous dentist actually charged me almost twice what the ones at Gerochi are asking me to pay! With their high-tech equipment and great dentists, I think that this clinic brings great value to your money.
Since I was asking a lot of questions about the clinic and other stuff about teeth and oral stuff, they also gave me a mini-tour after my treatment was done. Isn't that wonderful? Sometimes it really pays to be curious enough to ask some (or a lot!) of questions and also have the camera handy. You never know when chance on something great like this great clinic.
I was really impressed by everything I had seen and experienced at Gerochi. The facilities looked high-tech and the place spotless clean. Of course, the fact that Doc Axel was a great dentist who answered all my queries and made my smile perfect is more than enough to make me recommend the clinic. Impressive, I should say.
You can find them online at http://www.gerochidental.com/ or check them out on Facebook at https://www.facebook.com/gerochidental. Or visit them at:
Address:
4th Level Montivar Building
34 Jupiter corner Planet Streets.,
Bel-Air Village Makati City
Contact Information:
E-mail: admin@gerochidental.com
Landline: (632) 403-3032
Mobile Phone: (63929) 419-9564