Legazpi City is home to the majestic 20 million-year-old Mayon Volcano. One will get a glimpse of this perfectly-shaped volcano no matter where he or she is in Legazpi. As an active volcano, puffs of smoke are often seen coming out from its peak, causing a small cloud of smoke to hang just above it. However, the cloud of smoke that forms above the volcano makes the view more scenic. At the base of the volcano is surrounded by rice fields, creeks, and rivers.
The Mayon Volcano may be the main attraction in Legazpi City, but there are a lot more beautiful and exciting places to see and explore in this part of the Bicol region.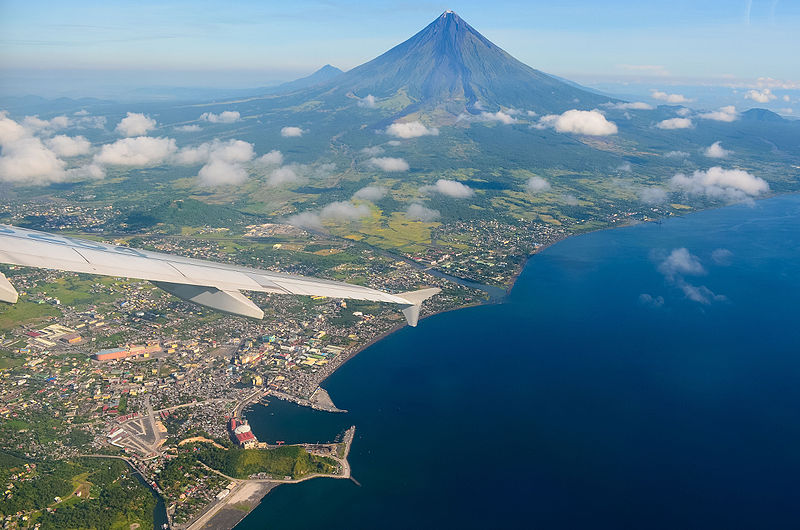 Cagsawa Ruins Park
For someone unaware of the history of the Cagsawa Ruins, he or she might think that the old structure often seen in front of the Mayon Volcano in many postcards is just an early church that has withstood time.  What we are looking at is just the belfry of the church.
Lignon Hill Nature Park
Do you want to go on some extreme adventure? Head on to the Lignon Hill Nature Park and try its zip line. Soaring down on its 320-meter stretch of a zip line, one will see green grassy plains and an incredible view of the Mayon Volcano.
Embarcadero de Legazpi
Consisting of shopping areas, restaurants, markets, and a lighthouse, the Embarcadero de Legazpi is a stretch of commercial establishments along the main harbor of the city. It is considered to be a premier lifestyle hub in Legazpi City, and its development has been highly-anticipated.
Kapuntukan Hill or Sleeping Lion Hill
At the foot of the Mayon Volcano lies a hill shaped like a sleeping lion, half a kilometer away from the Legazpi Port. From the top of the mountain, one will see a beautiful view of the Legazpi Port District and the nearby Albay Gulf.