As a country surrounded by bodies of water, the Philippines boasts of so many gorgeous islands that attract both local and foreign tourists. It is easy to get lost in the spell of pristine beaches, clear water, and friendly locals.
For years, several islands in the country have been enjoying popularity amongst tourists such as Boracay, Panglao, Siargao, and Camiguin, among others. However, recent years has introduced several beautiful but unknown places in the country.
Kalanggaman Island in Leyte is one of nature's best-kept secret that has been getting attention because of its cream-colored sand and blue-green waters.
Where is Kalanggaman Island located?
A small island located in Palompon, Leyte, Kalanggaman Island covers only 750 meters. One can get around the island in just a few minutes.
The island got its name from the local word, 'langgam' which is a Visayan word for 'bird.' When seen from above, the island has a bird-like shape, hence the name 'Kalanggaman'.
Furthermore, the island used to be home for migratory birds.
On the surface, Kalanggaman Island has white, powdery sands and a long stretch of sandbars. The area is uninhabited, devoid of luxurious hotels and resort. The island can only accommodate up to 500 visitors at a time. This is how the local tourism office preserves the beauty of the place.
Because of the high current, swimming is not allowed on the sandbar, but tourists can walk along there, once it appears around 3 p.m.
If you are looking for a place that will enable you to relax and commune with nature, Kalanggaman Island is the place to be. Equipped with only the bare essentials, there are only several cottages, changing rooms and toilets, a tree house, and a small multi-purpose hall. At night, you have the moon and the stars to light your way.
The real beauty of the Kalanggaman island is underneath its pristine waters. A paradise is revealed underwater—teeming with a rich and diverse marine life and corals.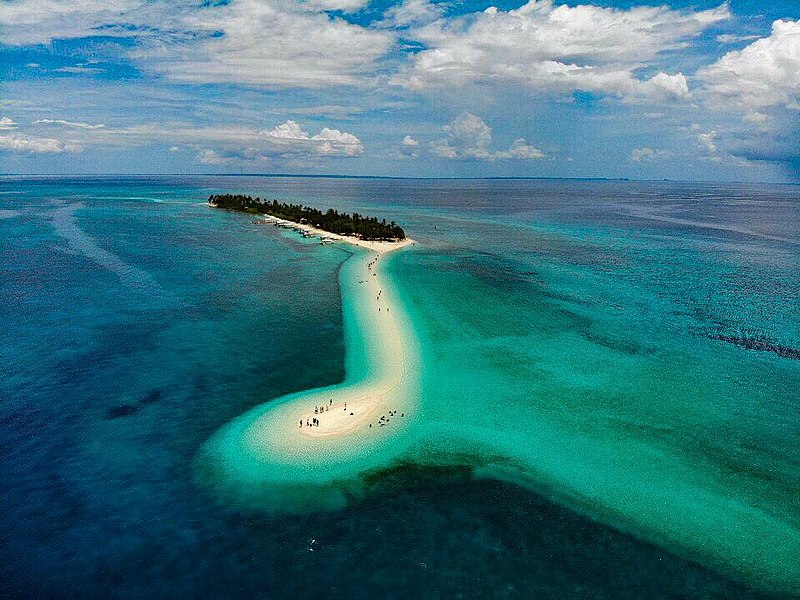 How to get to Kalanggaman Island?
There are different ways to get to Kalanggaman Island—air, water, and land travel.
From Manila, one can take a plane ride going to Tacloban Airport or the Mactan International Airport in Cebu. From these two airports, there are several ways to get to the islands.
Up to take a long but scenic journey? There are buses from Manila that goes directly to Palompon, Leyte. The ride would take 24 hours but will pass different places such as Laguna, Naga, Samar, and others, according to Out Of Town Blog.
Here are some ways to go to Kalanggaman island if you are coming from different areas, according to thepinaysolobackpacker.com.
If coming from Tacloban, take a cab or tricycle going to van terminals that go to Palompon. The travel time from the terminal to Palompon will take about three and a half hours. Once there, proceed to the Palompon Tourism Office which may be found at inside the Freedom Park beside the Municipal Town Hall. You need to register before you can hire a boat that will take you to Kalanggaman.
On the other hand, if coming from Ormoc, you need to ride a bus or van going to Palompon. These vehicles are found in the terminals located behind the pier in front of the Ormoc City Park. Traveling from Ormoc to Palompon is around one a half hour.
Meanwhile, those who will come from Cebu has two ways to get to Kalanggaman Island. The first option is by riding a ferry from Cebu City going to Palompon, Leyte which will take about five and a half hours
The second option is taking a bus bound for Bogo City, travel time of which is around three hours. From there, you need to get to Polambato Port by riding a pedicab. It will take about 25 minutes to get there. At the port, take a ferry that will take you to Palompon.
If you are already in the Malapascua, you may take a tour package or join a group tour to Kalanggaman Island. Travel time is around two hours.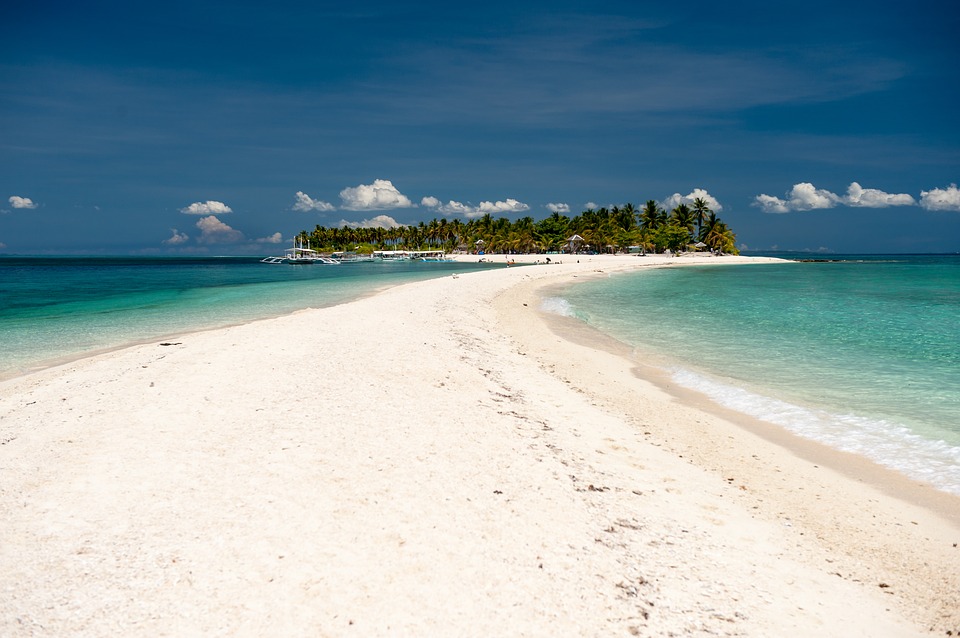 What are the things to do in Kalanggaman Island?
The best times to enjoy Kalanggaman Island is during the summer months of February to May and from October to June. The months of July to September are usually rainy, and these are not the ideal times to go and explore the island. It may also get crowded during the summer season and long breaks such as Holy Week and long weekends.
Devoid of the usual nightlife, clubbing stuff, a visit to Kalanggaman Island may include activities such as snorkeling, swimming, scuba-diving and other beach sports.
Staying overnight on the island is allowed, but there are similar charges that must be paid. Also, you will need to bring your camping tent, lamps, flashlights with extra batteries, and a sleeping bag, among others.
If you have your snorkeling equipment, you may take it with you on the island. However, if you have none, or it is a bit of a hassle for you to bring along, there is snorkeling equipment that may be rented from the tour operators.
After exploring the island, you may take a side trip down the nearby islands in Inopacan, Leyte. Collectively called Cuatro Islas, the islands of Digyo, Mahaba, Apid, and Himokilan will prove that there is a lot worth discovering in the province of Leyte.
You can also take a boat and go diving on another island paradise, Malapascua.
If you are looking for a different attraction, you may try to explore the rest that Palompon has to offer such as the Tabuk Marine Park and Bird Sanctuary, Lantaw, Palompon, and Masaba Falls.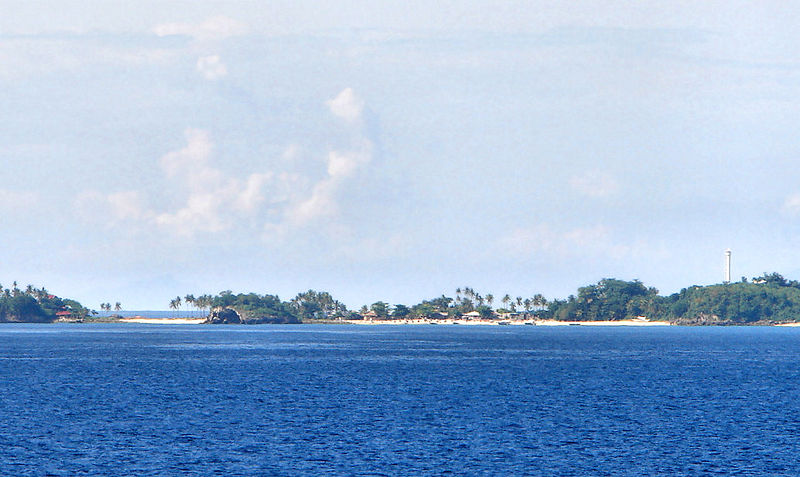 Things to remember when in Kalanggaman Island
Notice that most activities are done under the sun, so do not forget to bring sunscreens or sun block.
There is only one store on the island so you may also bring foods and drinks, most notably, water. You may also want to bring a power bank to recharge your mobile phones, camera, and other gadgets since electricity is not available on the island.
You may also want to bring a stack of cash since there is no ATM around the island. You can withdraw some money in Palompon before hopping into the boat that will take you to Kalanggaman.
Do not bother to bring shampoos, soap, or detergent on the island. There is no supply of fresh water, anyway, so you might as well take a shower in the hotel where you are staying before you proceed to Kalanggaman. Nevertheless, there are changing rooms and toilets around the area, if ever you will need to use one. There is also a medic station, in case of any untoward incidents.
You may also want to advise your family, friends, or coworkers that the mobile signal on the island is intermittent so they will not worry, in case they are not able to reach you.
A reminder from @thepoortraveler says that boats leave the island before sunset and will only return on the next day. If you are not planning to spend the night on the island, better make sure that you can take a boat out of Kalanggaman before it gets dark.
Finally, please do help preserve the beauty of the island by not trashing the place. Take back with you any plastic bags or containers that you used during your stay.
Other references: