Through the years and through the throngs of local and foreign tourists coming in for an adventure, the mountain town of Sagada was able to preserve its rich indigenous culture and traditions.
Located almost 5,000 feet high between the mountain ranges of Cordillera and Ilocos, this town is home to Kankanaeys, one of the six ethnolinguistic groups of Igorot from the Cordillera Administrative Region. Even in the old times, the Spanish influence was not able to change Sagada and its people.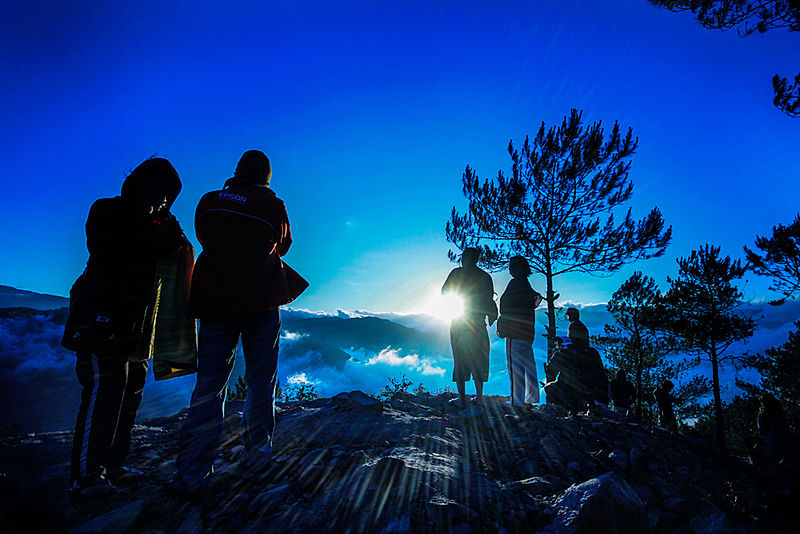 It is not hard to fall in love with this place. Its lush, green surrounding, pine-scented cool mountain air, and scenic surroundings will make you forget about other concerns bothering you once you set foot in this place.
Sagada is a small town and people going for long walks are a familiar sight. Who wouldn't love waking up to tranquil, cool, mornings covered by shrouded mist.
Sagada is not your usual Philippine tourist destination, as the country is known to the world for its tropical beaches like Boracay, ultimate surfing destination like Siargao, and white, powdery sandbars like that of Kalanggaman Island. This only goes to show that the Philippines is tourism haven rich with natural wonders. The mountain-town is a cradle of age-old culture and tradition unique to its people. 
The people of Sagada thrive on agriculture but the continuous boom in tourism has led a number of residents and property-owners to rework their homes into inns, hotels, restaurants, and cafes.
How do I get from Manila to Sagada?
Sagada is not the easiest place to go to as one will have to pass zigzag mountain roads.
Most tourists going to Sagada would usually make Metro Manila as their main point of travel. From the country's capital, there are several bus terminals that caters to people going to Sagada.
There are no nearby airports in Sagada and the only way to get there is through land travel.
Coda Lines is a bus company that offers direct trips from Manila to Sagada and vice versa. The bus terminal is located in Cubao, Quezon City
However, if you are planning to make a side trip before proceeding to Sagada, there are other options, as well. You may take a bus from Manila to Baguio and one of the bus companies that offers this trip is Victory Liner, which has terminals in Cubao, Pasay, and Caloocan City.
How do I get from Baguio to Sagada?
Once in Baguio, you have to proceed to Dangwa Station to catch a GL Trans bus that will bring you to Sagada. These buses are just the basic ones with no air-conditioning. The travel time from Baguio to Sagada is almost as long as the travel time from Manila to Baguio.
Meanwhile, Banaue has a lot of scenic spots of its own so you might want to drop by here first, before making your way to Sagada. Take a bus from Manila to Banaue. The terminals of the bus companies that offers trips to Banaue are usually found in Sampaloc, Manila.
Once you are in Banaue, you have three options to go to Sagada. First, is by taking a van to Bontoc and then riding a jeep going to Sagada. The second option is to take a van that will take you directly to Sagada. Or, if you are coming in group, you can hire an entire jeep that will take you straight to Sagada.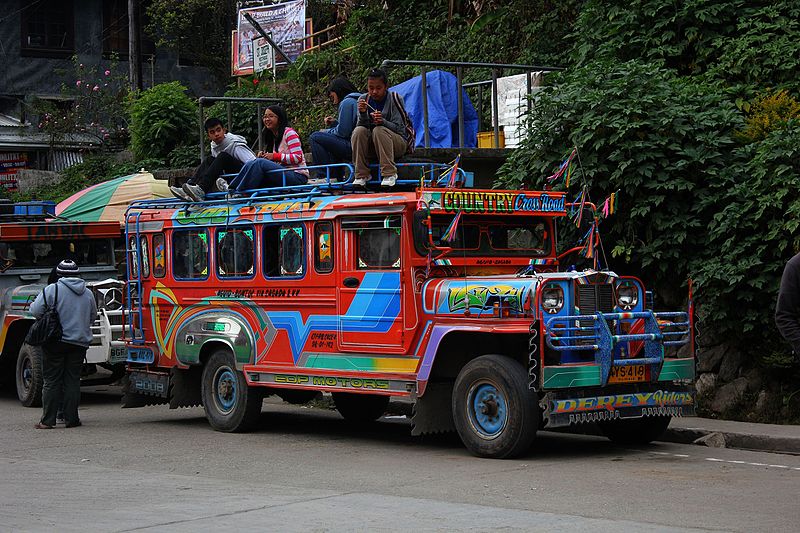 If you are coming from Vigan, Ilocos Sur, you can take a bus that is bound for Manila. Inform the conductor that you intend to go Sagada so the bus will drop you off at Bitalag UV Express van terminal. From there, you will have to take a passenger van going to Cervantes. Once there, you have to transfer to another van going to Bontoc.
In Bontoc, you have to take another van that will take you to Sagada 
When is the best time to go to Sagada?
The months of November to February is the best time to visit Sagada, as the weather is cool and dry. Expect a large crowd if you intend to visit in December or during the months of March and April.
Furthermore, the months of May to July are the warmest months in Sagada and there is a possibility of rain, as the rainy season in the Philippines starts on June to October. During this season, there are threats of landslides and you might not be able to enjoy some of the activities, especially that Sumaguing Cave can have high water levels when it rains in Sagada.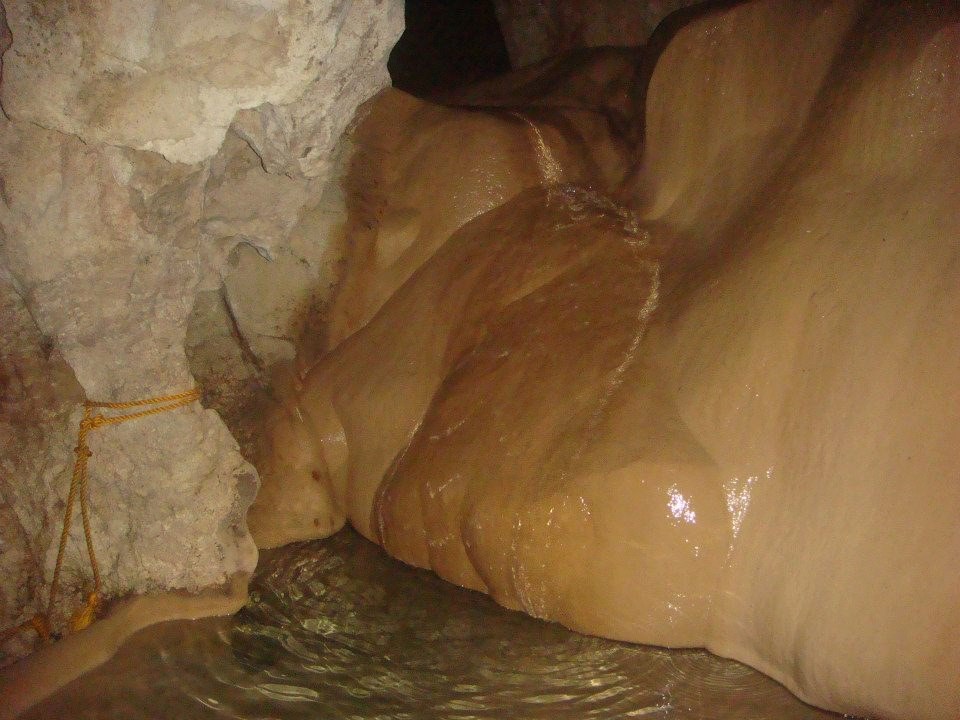 How many hours does it take to reach Sagada?
Normally, a trip from Manila to Sagada would take around 11 to 13 hours, depending on the route that you would like to take. Do prepare yourself for a bumpy ride and long, stretch of bus rides. The journey is rewarding, though, as you get to be treated to fine sceneries along the way.
What should I bring to Sagada adventure?
Sagada is a backpackers' paradise. Having said so, it means that you would have to bring along more supplies than you would normally bring in a regular trip.
First off, you need a sturdy and roomy backpack. Exploring Sagada meant a lot of walking, trekking, and hiking. You would save energy if you do not have a lot of things on your hands. But don't bring a very large one—just the right size that would fit all your travel essentials.
Also bring a small backpack, a drawstring bag, or a knapsack, as you will need a smaller bag to put your essentials such as your camera, mobile phone, water bottle, some towels, and food as you embark on your Sagada adventure.
Remember to wear a trustworthy footwear—preferably, a trekking sandal. This will keep your feet safe and protected while you are doing all the walking, the hiking, and the trekking. Though it is ok to wear a rubber shoes, you have to remember that there will be wet areas that you need to pass through and you wouldn't want to get your rubber shoes wet.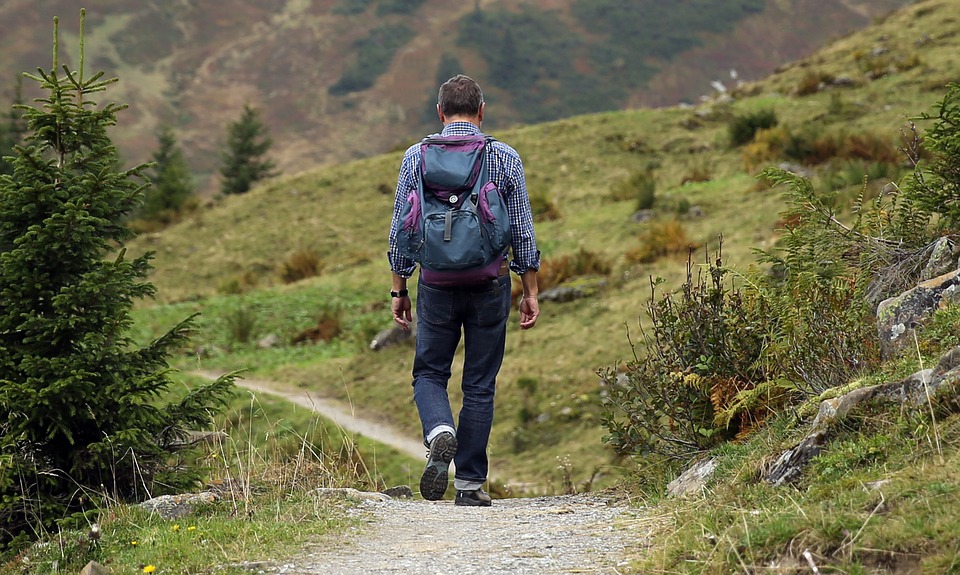 Just bring enough clothes. There will never be an ultra-glamorous to attend to, anyway. You only need a few pieces of upper, lower, and undergarments. You may wash those that you have worn during the day and wear it again on the next days. Nobody will notice or, even, care if you are wearing the same shirt in a row because you will be wearing sweater all along.
Important items to bring are those clothes made from water-repellant materials or those rash guards because they get dry easily.
There are no fancy hotels in Sagada, only inns and small hotels. Do not expect them to provide you with toiletries so just bring your own towels, soap, shampoo, conditioners, alcohol, insect repellant, sunblock or sunscreen, tissues, or wet wipes. You can also buy these supplies from the stores around the area and support the local economy.
Bring a sarong, as well, if you have one. This accessory is so efficient that you can use it as blanket, head and body cover, and a towel.
Stock up on cash as almost all establishments in Sagada only accepts cash. There is an ATM in the town but it is hard to depend on it, especially that it might ran out of cash or go offline.
You may also want to bring a small travel pillow for that long bus rides.
What are the activities to do in Sagada?
The Facebook Page of Sagada Tourism shared this list of things to do in Sagada, together with the corresponding fees and the duration of each activities. Prices indicated in the list may change without prior notice so it is best to inquire directly on their page to make sure.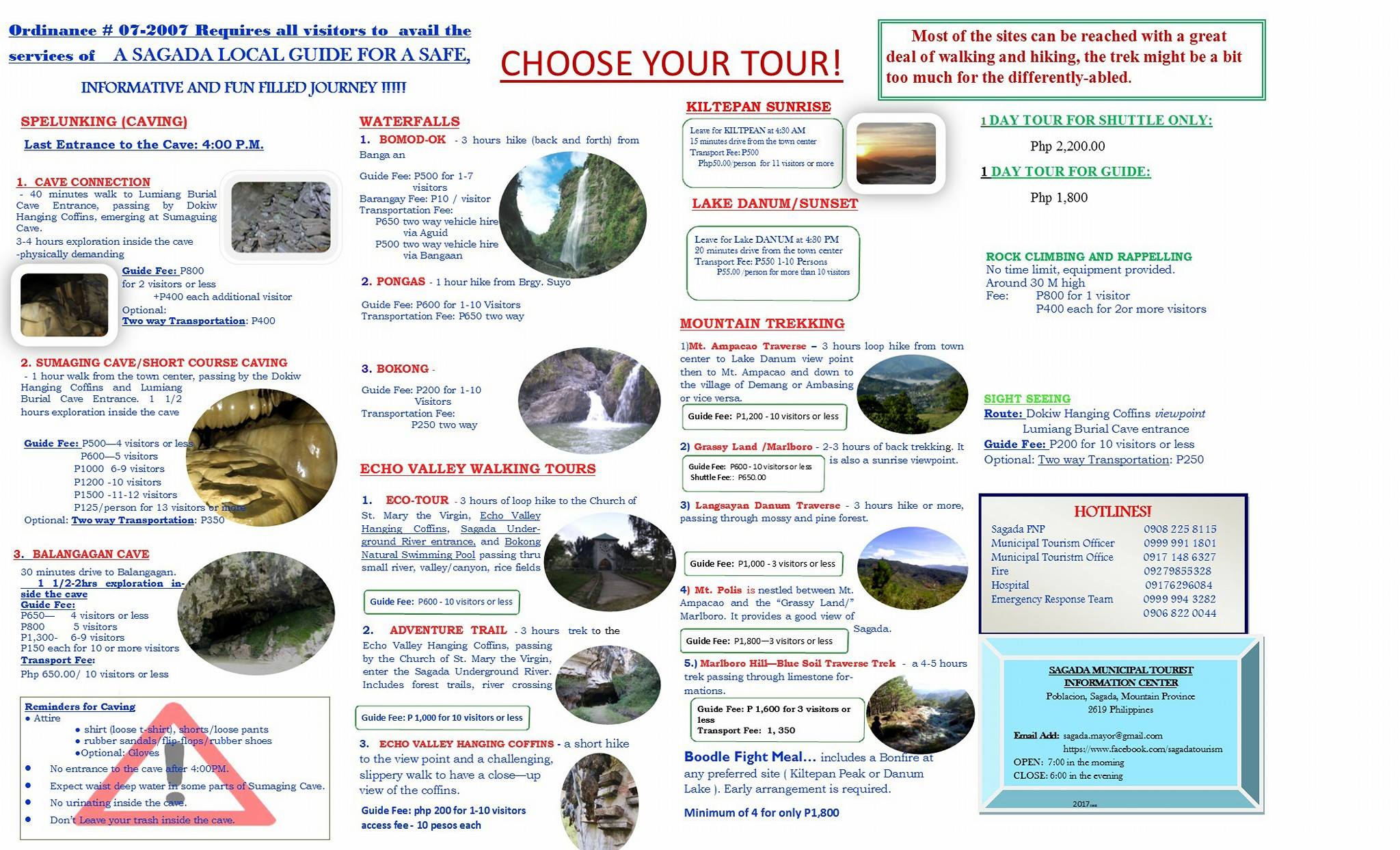 Once you set foot in Sagada, the first that you need to do is to register at the Tourism Office. It is also here where tours shall be booked. Please remember not to go to Sumaguing Cave without a guide and without registering first to the Tourism Office.
Last word of caution; the curfew time at Sagada is at 10:00 PM. Most establishments closed down at 9:30 PM. Do not go anywhere far from your hotel or accommodation as the night gets deeper, as there are no streetlights in Sagada. If you will be joining a tour to Kiltepan Peak to watch the sunrise, a van will pick you up at 4:30 AM.
Finally, please take your litters with you and refrain from using single use plastics. Let us all do our share in preserving the beauty of all the naturals wonders and tourist destinations in our country. After all, this is our country and we should take care of it.